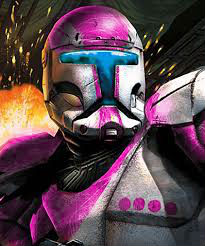 "It wasn't a total fail, Turquoise, you showed me how I needed to be, not what they made me to be, thank you sir. Because of you, I'm... free."- RC-1327/a

RC-1327/a, nicknamed Jackson, was an Republic Commando who served under the command of CL-0702, nicknamed Turquoise, in Tauntaun Squadron. He was noted for being loyal to both his teammates and to the Chancellor. Because of this, Jackson was constintially torn between following orders and listing to his brothers.
Training on Kamino
Edit

While on Kamino, Jackson had always been recognized by the Kaminoans and his brothers as a "perfect" clone, as he would practically follow every order given to him.